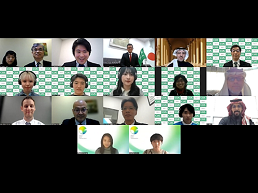 February 20, 2023
In
News
ECCJ held an online workshop on energy efficiency at University in the Kingdom of Saudi Arabia
<Workshop>
Date held: Wednesday, January 11, 2023, 9:05 a.m. to 11:45 a.m.
Venue (Japanese side): 2F Business Room, Holiday Inn Riyadh Al Qasr
The Energy Conservation Center, Japan (ECCJ) held an online workshop on January 11, 2023 for the King Saud University (KSU), which is jointly sponsored by the Kingdom of Saudi Arabia and Japan.
In the Kingdom of Saudi Arabia, energy efficiency is an important policy agenda in an aim to practically utilize its precious hydrocarbon resources and reach Net Zero in 2060 through the "Carbon Circular Economy" approach announced by HRH Crown Prince. To assist the challenge for energy efficiency in the Kingdom, the Japanese government has been working collaboratively with the Kingdom in many fields related to energy efficiency. In order to continue making the progress, this Workshop aims to nurture a young generation of the Kingdom as future experts of energy efficiency while cultivating new strategies to promote energy efficiency in the consumer sector through sharing experiences and exchanging ideas between experts from the Kingdom and from Japan.
The topics in the Workshop were as follows.
(1) Introduction of an energy efficiency (EE) course at the KSU
(2) Improving the energy efficiency of buildings in the Kingdom of Saudi Arabia (SEEC)
(3) Case study of energy-saving and environmental activities implemented by Japanese university students (Chiba University of Commerce and Tokyo University)
(4) Energy conservation technologies of the Japanese companies in university buildings toward Zero emission (Daikin Industries and Nikken Sekkei) .
Opening remarks were made by Mr. Sho Inokuchi, Director of METI, and a felicitation speech was made by Mr. Kazutaka Kawahara, Minister, Embassy of Japan in Kingdom of Saudi Arabia.
The participants numbered around 50 persons, including KSU students. A productive question and answer session was held to share opinions and experiences relating to methods of increasing the energy usage efficiency in the consumer sector.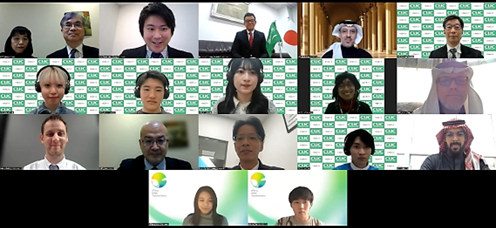 Snapshots of the persons giving presentations