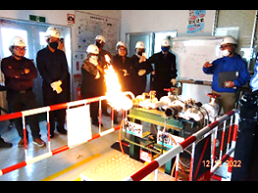 ECCJ held the 9th energy conservation invited training in Japan (BECMY9) for Malaysia
Under the instruction and financial support of the Agency for Natural Resources and Energy (ANRE), the Energy Conservation Center, Japan (ECCJ) has been implementing a bilateral energy conservation cooperation project with Malaysia which also continued in FY2022. Impacts resulting from the spread of COVID-19 infections were also incurred in the current fiscal year, but because it became possible to conduct invited training in Japan, training was held and successfully completed during the five-day period from December 12 to 16, 2022. The training targeted 10 representatives from Malaysian government-related institutions, associations, and university-related persons with the aim of formulating a heat-related energy audit training system.
1. Training participants
(1) Malaysian side: Total of 10 persons, comprising three persons from the Ministry of Natural Resources, Environment and Climate Change, two persons from the Sustainable Energy Development Authority (SEDA), two persons from the Energy Commission (EC), one person from another government-related institution, one person from an association and one university-related person
(2) Japanese side: Seven persons from the ECCJ International Cooperation Division, two persons from Nippon Steel Technology Co., Ltd., one person from TLV Co., Ltd. and five persons from other companies
2. Overview of training:
(1) Objective: Lectures relating to energy audits and heat facilities are given and energy conservation practical training is implemented as one part of developing human resources comprising persons and lecturers related to the Energy Auditor Training System in the heat field, which is to be newly systematized in Malaysia.
(2) Opening and closing ceremony greetings: Greetings were given by representatives of METI, the Malaysian Ministry of Natural Resources, Environment and Climate Change and ECCJ.
(3) Lecture items: Activities were implemented over a total of five days, consisting of lectures relating to energy audits and heat equipment given during a two-day period, practical training using energy conservation training facilities conducted over two and a half days, and small-group activities implemented for half a day.
1) Energy audits: Methods and key points for energy audits, and the energy audit professional system
2) Thermal facilities overall: Industrial furnaces, boilers, cogeneration systems, heat pumps, and cement kilns
3) Thermal training facilities: Open burners, combustion furnaces, and steam traps* (Conducted by Nippon Steel Technology and TLV*)
4) Electrical training facilities: Pumps, fans, and compressors (Conducted by Nippon Steel Technology)
(4) Practical training: While having trainees operate the facilities described in 3) and 4) above at the two companies' sites, hands-on training was conducted including flame observations and the operation and reading of valves and measuring instruments. Lively questions were received from the trainees.
(5) Evaluation: ECCJ could realize the significance of conducting face-to-face training such as energy conservation practical training, and requests were received from trainees that this type of training should be continued in the future. In addition, all participants could safely return to their countries without encountering any problems due to COVID-19.