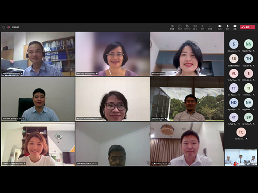 ECCJ held a bilateral energy conservation training online workshop as part of the EE&C capacity building program (BECVN13) for Vietnam
<Training Program>
Under the instruction and financial support of the Agency for Natural Resources and Energy (ANRE), the Energy Conservation Center, Japan (ECCJ) is implementing the EE&CCapacity Building Program to support energy conservation promotion in Vietnam.Due to the influence of the COVID-19 pandemic,in FY2022 the workshop was held in an online format linking Tokyo with various areas of Vietnam. The main topic of the workshop was "support for disseminating ZEBs in Vietnam".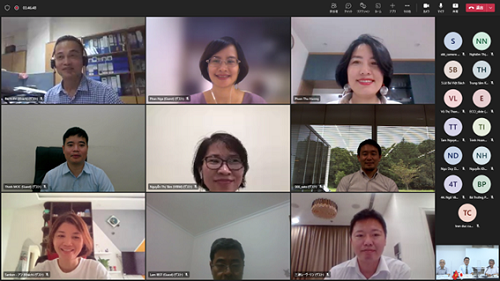 Group photograph of the participants
[Details]
The online training held this time had more than 30 participants, consisting of representatives from the Vietnamese Ministry of Industry and Trade (MOIT), Ministry of Construction (MOC) and construction-related persons. During both days of September 7 and 8, 2022, the following explanations and activities were implemented.
(1) Latest Japanese policies for construction toward carbon neutrality (METI)
(2) Latest Vietnamese policies toward carbon neutrality (MOIT)
(3) Greenhouse gas reduction effects resulting from ZEBs (from an ASEAN survey)
(4) Methods for achieving Japanese ZEBs and ZEB dissemination strategies (from ISO/TS23764)
(5) Introductions to actual Japanese ZEBs (JASE-W)
(6) Introductions to the materials, equipment and control systems required for ZEBs (Various Japanese-affiliated companies)
(7) Online visits to ZEB facilities
[Results]
The effectiveness of ZEBs toward carbon neutrality was shown and the understanding of participants was gained.
It was shown that ZEBs are being realized, and that it is also possible to convert existing buildings into ZEBs, in addition to constructing new buildings.
By demonstating the efficacy of ZEBs toward carbon neutrality, the participants' willingness to disseminate ZEBs increased.
(Note)
BECVN: Bilateral Energy Conservation Program for Vietnam
ZEB: Zero Energy Building
MOIT: Ministry of Industry and Trade
MOC: Ministry of Construction
JASE-W: Japanese Business Alliance for Smart Energy Worldwide