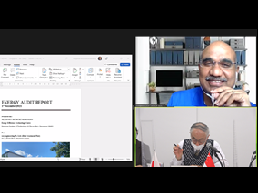 February 17, 2022
In
News
ECCJ Implemented Intermediate Checks of Energy Audits in the FY2021 Energy Conservation Support Project for the ASEAN Region
<Meeting>
Under the instruction and financial support of the Agency for Natural Resources and Energy, the Energy Conservation Center, Japan (ECCJ) is implementing Scheme 2 of the FY2021 EE&C capacity building program for the ASEAN region. Scheme 2 is a program which aims to foster energy manager trainers and to develop and improve systems for certifying them. As part of this program, ECCJ implemented intermediate checks during the seven-day period consisting of November 30 and December 1, 2, 7, 8, 9 and 21, 2021. The checks related to the final evaluation of energy audits which were conducted by the candidate trainers in January 2022 for the purpose of training energy manager trainers from each ASEAN country. This is intended to confirm the progress situation relating to the energy audits which the training participants, all candidate trainers, were to implement in their own countries. However, candidate trainers who could not implement audits in their own countries in the current fiscal year due to the impacts of the COVID-19 pandemic were able to conduct audits using a new training method (known as the virtual energy audit). In this new method, ECCJ provided data which it had specially prepared for the training, and the candidate trainers had to consider and propose energy conservation measures based on this data. 
Views of online intermediate checks (Myanmar and Indonesia)
Views of online intermediate checks (Thailand and the Philippines)
1. The training held this time had participation by 20 energy manager trainer candidates from each ASEAN country. 
2. Because five candidates from Brunei, Cambodia and Singapore were actually conducting energy audits in their countries, confirmation was made of these audit situations. For the 15 candidates from the other seven ASEAN countries, virtual energy audits were implemented. 
3. In the virtual energy audits, the necessary data was abstracted from audit reports which had been used in the program over the past five years, and this data was supplied to the participants. Based on this data, the participants considered energy conservation measures and compiled them into a report. 
4. Although it was the first time to try using the virtual energy audit method, the participants