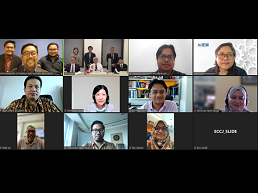 December 22, 2022
In
News
ECCJ held the FY2022 4th online meeting relating to energy conservation support with Malaysia
<Meeting>
Under the instruction and financial support of the Agency for Natural Resources and Energy (ANRE), the Energy Conservation Center, Japan (ECCJ) has been implementing a bilateral energy conservation cooperation project with Malaysia which also continued in FY2022. It is planned to hold invited training in Japan in December this year, and the training participants were decided in early November. On November 17, the fourth online meeting of the current fiscal year was held. At this meeting, ECCJ explained details of the training contents, the invitation letter, acceptance systems, and COVID-19 countermeasures, gaining the understanding of the 10 persons who would participate in the training.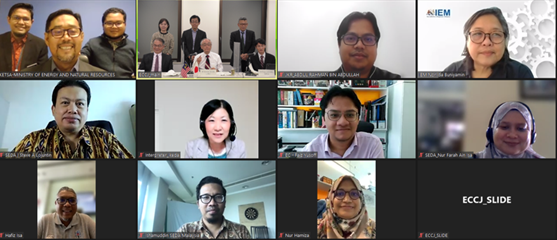 1. Meeting attendees:
(1) Malaysian side: Mr. Noraizi Nordin, Ministry of Energy and Natural Resources (MENR) and two other representatives, Mr. Steve Anthony Lojuntin, Director, Sustainable Energy Development Authority (SEDA) and two other representatives, Mr. Mohamad Faiz Mohd Yusoff, Assistant Director, Energy Commission (EC) and one other representative, and three representatives from other institutions, making a total of 11 persons (including the contact persons in charge)
(2) Japanese side: Six persons from the ECCJ International Cooperation Division

2. Overview of meeting and its results: ECCJ gave explanations relating to the following items, with participants asking many questions to which answers were given. It was effective that ECCJ could give detailed explanations and make confirmations utilizing an online format before the participants visiting Japan.
(1) Confirmation of the 10 persons who will participate in the training
(2) Explanation of the training program (Revised version)
(3) Explanation of the training outline (Revised version)
(4) Confirmation of the details requiring responses in the application form and other documents: All of the necessary documents were provided, including the COVID-19 vaccination certificates.
(5) Explanation of the invitation letter and the visa application forms: Although it is now no longer necessary to apply for a visa to visit Japan, as a precaution ECCJ asked participants to carry the application-related documents with them during the immigration inspection.
(6) Information was provided relating to the flight details, Narita Airport, the hotel and the training venue.
(7) Explanations were given and requests made for participants to be prepared for the latest Japanese border control measures and the code of conduct required for COVID-19 measures in Japan.

3. Schedule going forward
(1) Issue of E-tickets to participants: November 28 (This actually occurred on November 25)
(2) Submission of Country Reports: November 28 (Currently giving reminders)
(3) Sunday, December 11: Arrive at Narita Airport in the morning and begin the training from December 12