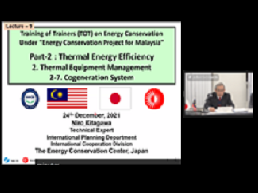 ECCJ Held 8th Energy Conservation Training (BECMY8 Part 2) for Malaysia in an Online Format
<Meeting>

Under the instruction and financial support of the Agency for Natural Resources and Energy, the Energy Conservation Center, Japan (ECCJ) has been implementing a bilateral energy conservation cooperation project with Malaysia which continued in FY2021. This time, thermal technology training (BECMY8 Part 2) was conducted for 36 persons related to government institutions, industry/associations and universities over the four-day period of December 3, 10, 17 and 24, 2021. Following on from the energy conservation practical training (BECMY8 Part 1) held in November, the training was conducted in an online format due to the impact of the spread of COVID-19, which made it difficult to dispatch experts to Malaysia or conduct invited training in Japan.
1. Training participants:
(1) Malaysian side: [Training participants] Total of 36 persons, comprising one person from the Sustainable Energy Development Authority (SEDA), two persons from the Energy Commission (EC), 12 persons from government-related institutions, eight persons from industry/associations, and 13 persons from universities.
[Other persons] Two persons from the Ministry of Energy and Natural Resources (MENR) and two persons from SEDA
(2) Japan side: One person from ANRE in METI and nine persons from the ECCJ International Cooperation Division
2. Training Summary:
(1) Objective: The second training project of FY2021 was implemented to support human resource development (capacity building) focused on the training of trainers in the thermal technology and facility fields required for the "Type 2 Qualified Energy Manager System" that is being considered under the energy conservation act which is to be newly established in Malaysia.
(2) Training period: December 3, 10, 17 and 24, 2021
(3) Lecture items: Lectures were given by ECCJ instructors relating to the following contents.
1) Energy management: Japan's energy conservation policies and energy management system
2) Thermal theory: Basic knowledge on thermal energy
3) Thermal equipment management: Boilers, steam system, industrial furnaces, waste heat recovery, cogeneration system, air conditioning and air compressors
4) Energy audits for thermal equipment: Audit methods and report creation, audit methods for boiler and steam system and case examples
(4) Country report: Mr. Steve Lojuntin, SEDA Director presented a report including the composition of Malaysia's new energy conservation act.
(5) Opening and closing greetings: In the greetings given by Dr. Ida Syahrina Shukor, MENR, Undersecretary, Dr. Cheong Weng Chung, Principal Assistant Secretary, Mr. Norihiro Kimura, Deputy Director, International Affairs Office of the Energy Efficiency and Renewable Energy Department in ANRE, and Mr. Motofusa Murakami, ECCJ Managing Director, each of the speakers emphasized the importance of promoting energy conservation which aims to achieve the decarbonization of society.