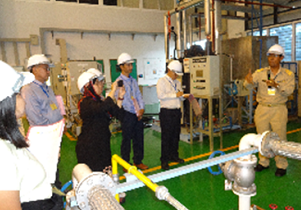 September 3, 2019
In
News
Implementation of practical training for qualified energy manager trainers at the Thai training center on Aug. 2019
Under the instruction and financial support of the Ministry of Economy, Trade and Industry (METI) (in the project for contributing to the rational use of energy in developing nations and the EE&C capacity building program), the Energy Conservation Center, Japan (ECCJ) implemented practical training for the training of trainers (TOT) under the AJEEP (ASEAN JAPAN Energy Efficiency Partnership) Scheme 2 Qualified Energy Manager Training Project at the Thai Training Center during the five-day period between August 5 and 9, 2019.
(1)  Simulations and data collection and analyses were implemented using the mini-plant and demonstration center facilities.
(2)  A total of eight trainees participated from three ASEAN countries and from the ACE.
(3)  The current situations of each country's qualified energy manager certification systems were shared, and energy conservation audit plans were formulated for each country.
| | |
| --- | --- |
| | |
| Overall group photograph | Training at the mini-plant |
| | |
| Holding of examinations | Awarding of completion certificates |
Practical training was implemented using the Thai Training Center facilities (mini-plant and demonstration center).
(1) Using the training center facilities, practical training was implemented according to the flow of simulations, data collection through actually operating the equipment, and data analysis.
(2) The current fiscal year corresponds to the final year of the Scheme 2 project. As in the previous fiscal year, participants were invited from throughout the ASEAN region, and the training necessary to develop ASEAN qualified energy manager trainers and the examinations to confirm their degree of understanding were conducted.
(3) Information was shared such as the actual situation and problem points of the qualified energy manager systems from each of the ASEAN countries. The energy conservation audit plans to be implemented by the participants in their own countries after this practical training were formulated.
(4) Making best use of the experiences gained this time, energy conservation audits are to be implemented by the participants in their own countries, and it is planned to report the results and to conduct final examinations at acceptance training to be held in Japan at the end of the fiscal year. These results will be comprehensively evaluated and certification will be given as qualified energy manager trainers.
* AJEEP: ASEAN-JAPAN Energy Efficiency Partnership
Program for building EE&C capacity in the ASEAN region by dispatching experts and implementing training in Japan