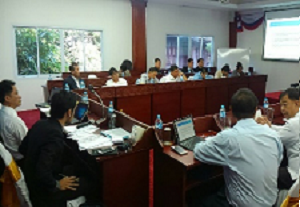 ECCJ Implemented the Energy Conservation support projects (Second Workshop) in Lao PDR on Aug.2018
The Energy Conservation Center, Japan held the Second Workshop in Vientiane, Lao PDR,on the main themes listed below in order to checkthe result of the activities in the current fiscal year based on the Inception Workshop in Lao PDR (August 2018) and the follow-up visit (October 2018) and how to promote the projects in the future.

(1) Check of the progress of the finalization of the prime ministerial decree draft on energy conservation and offering of advice
(2) Check of the finalization of the proposed S&L system including Rating Standard, Energy Label, etc.
(3) Support for establishment of a promotion framework for speeding up the development of the energy management system
Dec. 18, 2018 / Dec. 20, 2018 Vientiane, Lao PDR
T
he Second 
Workshop
 was attended by 
25 
participants
 including the representatives from Ministry of Energy and Mines (MEM), Ministry of Industry and Commerce, Ministry of Science and Technology,
É
lectricité du Laos
, Lao DSM Energy Efficiency Project, National University of Laos, Lao Construction Association and private
industrial and building
sectors such as tobacco, steel, convention center
s
 and hotel
s
, ASEAN supporters from Thai, Malaysia and Singapore governments, and ASEAN 
Cent
r
e
 for 
Energy (ACE)
.
◯ 
Regarding the finalization of 
the prime ministerial decree 
draft
on energy conservation
,
the 
ECCJ
 made 
c
omments on 
17
 items for improvement. The 
MEM
 will finalize
 t
he prime ministerial decree 
draft 
b
ased on the 
ECCJ's 
suggestion
s so that it will be 
approv
ed
 in the beginning of 
2019
.
◯ 

Regarding the development of the 
S&L
 system, the matters required for finalization were clarified based on the suggestions
made by the ECCJ 
on 
the proposals 
concerning
Rating Standard and Energy Label
.
 In addition, toward establishment of an operation system including 
a 
s
upplier registration system, 
a 
product registration system and 
a 
performance evaluation system, the participants, including 
the 
supporters form Malaysia and Singapore, lively exchanged opinions.
◯ 

Regarding the development of 
the energy management system, 
the participants deepened the
ir
 understanding 
of 
the contents of 
EC
 guideline, 
EM
 manual, qualified energy manage
r system
, etc
. In addition, 
the Stakeholder Meeting was held for establishment of a development promotion framework, and 
an agreement was reached about formation of "Model Project" by industry, academia and government. 
A
ctivities in this 
Project
 in the future will include studying 
each component of the energy management system and 
preparing 
drafts.
The result of activities in the current
 fiscal
 year and 
the 
action plans for development of a legal system 
for
 the future will be reported by 
the 
MEM in AJEEP Post Meeting
,
 which will be held at the end of February.
* AJEEP: ASEAN-JAPAN Energy Efficiency Partnership
Program for building EE&C capacity in the ASEAN region by dispatching experts and implementing training in Japan